We offer two types of non-skid padding; both are made in the USA. Rug pads serve many functions: they hold rugs safely in place and prevent sliding, they muffle the sound of footsteps, they protect your rug and your floor from incessant crushing from shoes, and they help to prevent premature wear by allowing sand and dirt to fall into the pad instead of abrading the underside of the knots. Please note that rug pads cannot be brought in with your rugs for our full immersion hand-wash. If they are worn out, contaminated with pet urine, or if you had a moth problem, you will need fresh padding.

Our rug pads can be cut with household scissors if any trimming is needed. We normally undercut a pad about 1" on each side.
*EcoNet™, the only sustainable rug pad (made entirely of just natural rubber and jute, a natural plant fiber) in an open, waffle style construction. The open grid design lets the rug and floor breathe, eases vacuuming and protects your floors and rug. It will not stain, mar or discolor standard flooring. Odor, mildew and vermin resistant. EcoNet™ plants a tree for every pad sold. Use over laminated wood, wood, tile and other hard floors. This is a great choice for floors with radiant heat or in situations when a thicker pad would interfere with the ability of a door over the rug to open properly.

EcoNet is cut to size in the shop only for rugs that are 6' x 9' or under; the price is $2 psf. Rugs over 6' x 9' need to use Magic Hold (below)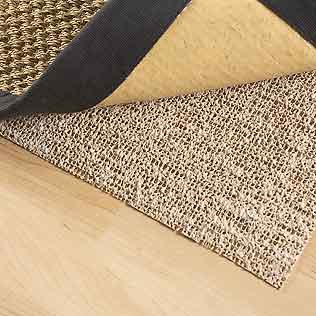 *Magic Hold is a thicker, needle-punch felt pad made from recycled textile products, which provides a little more cushion underfoot. This felt pad is reversible, making it suitable for wall-to-wall carpeting (aka "rug to rug") as well as any hard surface flooring. This is our nicer pad, but be aware the extra height it gives a rug may interfere with door clearances (about a 1/4"). It is safe for radiant heat floors.

Magic Hold comes pre-cut, pre-packaged in standard rug sizes:
3x5 $37
4x6 $60
5x8 $100
6x9 $135
8x10 $200
8x11 $220
9x12 $270
10x14 $350
12x15 $450
Sizes that don't work for the prepackaged pads, for example 2x3's and runners, are $2.50 psf.

Please be aware that in the case of 'non-standard sizes', pieces will need to be duct taped together to create the proper dimensions but that this does not affect the performance or life of the pad in any way.
If you prefer a full pad, with no duct tape, we will have to cut it out of the proper pad for length/width to achieve that and you will be charged for that pad size. You are welcome to bring any remnants home to use on other rugs.